Norman Agutters Derwent Delux Fishing Bag.

This fishing bag, in canvass edged with leather, is excellent value for money and particularly well designed and finished. Its main advantage is that it has no zips which can break or jam. It has three flap closures. Approximately 12" x 16"
Norman Agutters "Perfectionist" 4 Piece Collection NEW
For the discerning travelling Angler who only wants the very best in performance, tradition and appearance The "Perfectionist" 4 piece series of rods between lengths of 7 - 12 foot. Each length of rod has been designed to accomodate the tapers and action of a 2 piece rods. The perfect rod would be one piece but to compensate the more ferule joints we have slightly modified the taper specifications to give you a beautilfully attractive functional collection of travelling rods. These rods are custom made to your personal requirements. The most popular size is below. 6 piece also available.
Larchy Automatic Hook Extractor.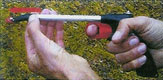 Many hooks are produced with a long shank in order to facilitate gripping them with pliers. With the Larchy long hooks are no longer necessary ñ on the contrary, they are a disadvantage. Whatever hook size you intend to use, you should favour hooks with the shortest shank. They are more mobile, enter easily into the fishís mouth and have a higher chance of being embedded. When using the Larchy, this means that you can use the shortest hook receiver for an easy turn of the receiver itself. The Larchy has three different-sized hook receivers (A, B and C).